Winning on a Budget
When it comes to car maintenance, $2000 doesn't always get you much. Don't tell that to Georgia Tech's Wreck Racing team though, who won the concours competition and finished third overall in this year's Grassroots Motorsports $2000 Challenge in Gainesville, Florida.
The goal of the competition is to take $2000 and use it to buy a vehicle and transform it into a dynamic racecar designed to excel at both drag racing and autocross. In addition, the competition includes a 'Concours' aspect, mimicking events like the Concours d'Elegance which showcase prestigious vehicles often worth millions. In this part of the competition, judges rate all of the cars on style, creativity, execution, and engineering. As team member Milad Mozayyani puts it, "At  Wreck Racing we have a pretty unique opportunity. While we can't spend more than $2000 on our car, we have access to an insane arsenal of machining tools at the Student Competition Center, so we can take essentially just a pile of scrap metal and turn it into functional suspension components, engine mounts, or whatever else we need."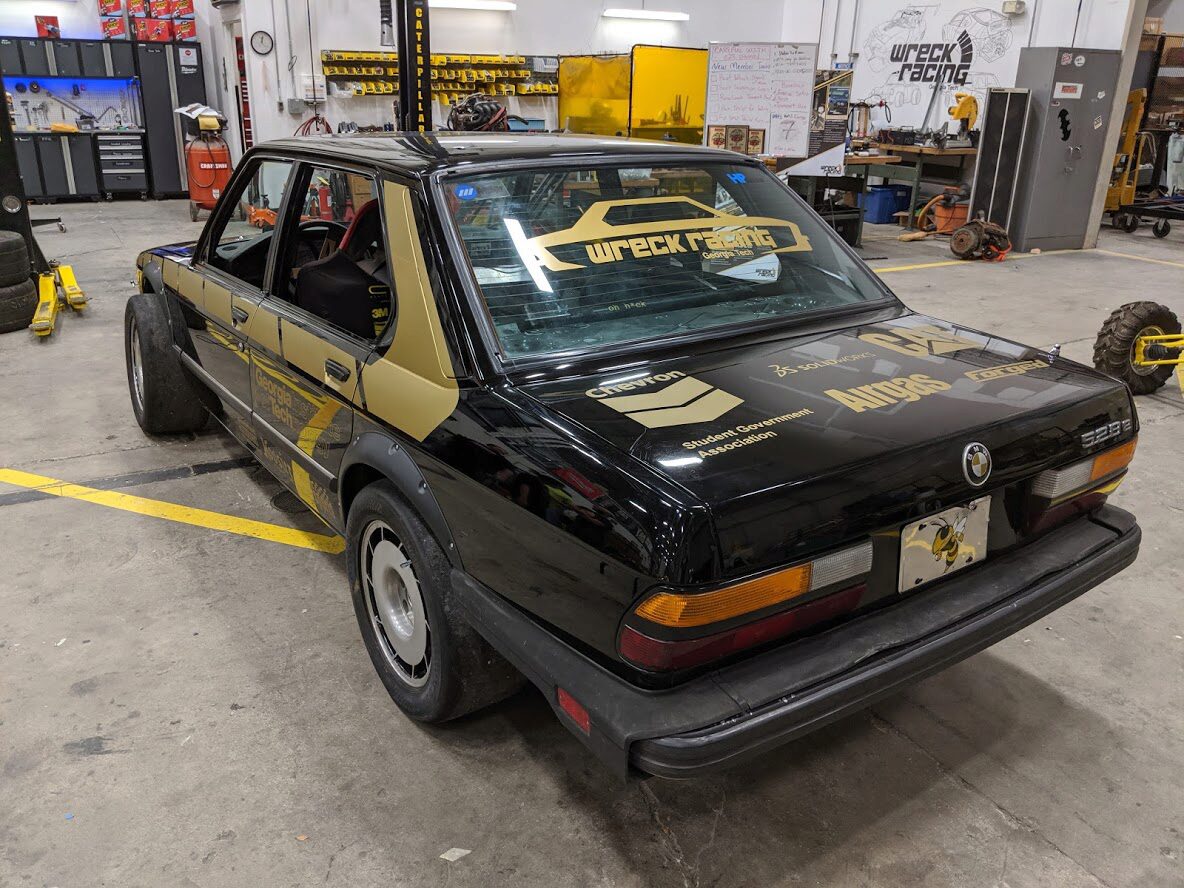 The team is based out of the Georgia Tech Student Competition Center on 14th Street and is made up of more than 60 students from 13 states, 8 countries, and 8 different majors. Team members come with a variety of skill levels and expertise, from hardcore car enthusiasts to complete beginners, and work together as a team, honing their design, build, and project management skills.

Shop manager Bekah Travis loves that they aren't locked in to working on one specific subsystem of the car.
"I've been working on testing injectors, and I've been learning to weld," she said. "We kind of take the frame of the car, take the different pieces that we find, and we have to figure out how to engineer solutions for them. So it's different every year. It's even different every week."
For the last two years the Wreck Racing car has been a 1986 BMW 528e, purchased for $400 from a dealership in Savannah. During the first year working on the car the team stripped out just about everything BMW-related except for the shell. They dropped in a 5.3 L Chevy V8 from an early 2000's Silverado, the front suspension of a 90's BMW 3 Series, the rear axle out of a Ford Explorer, and a transmission out of 1967 Pontiac GTO. According to Mozayyani every component was chosen for a specific reason.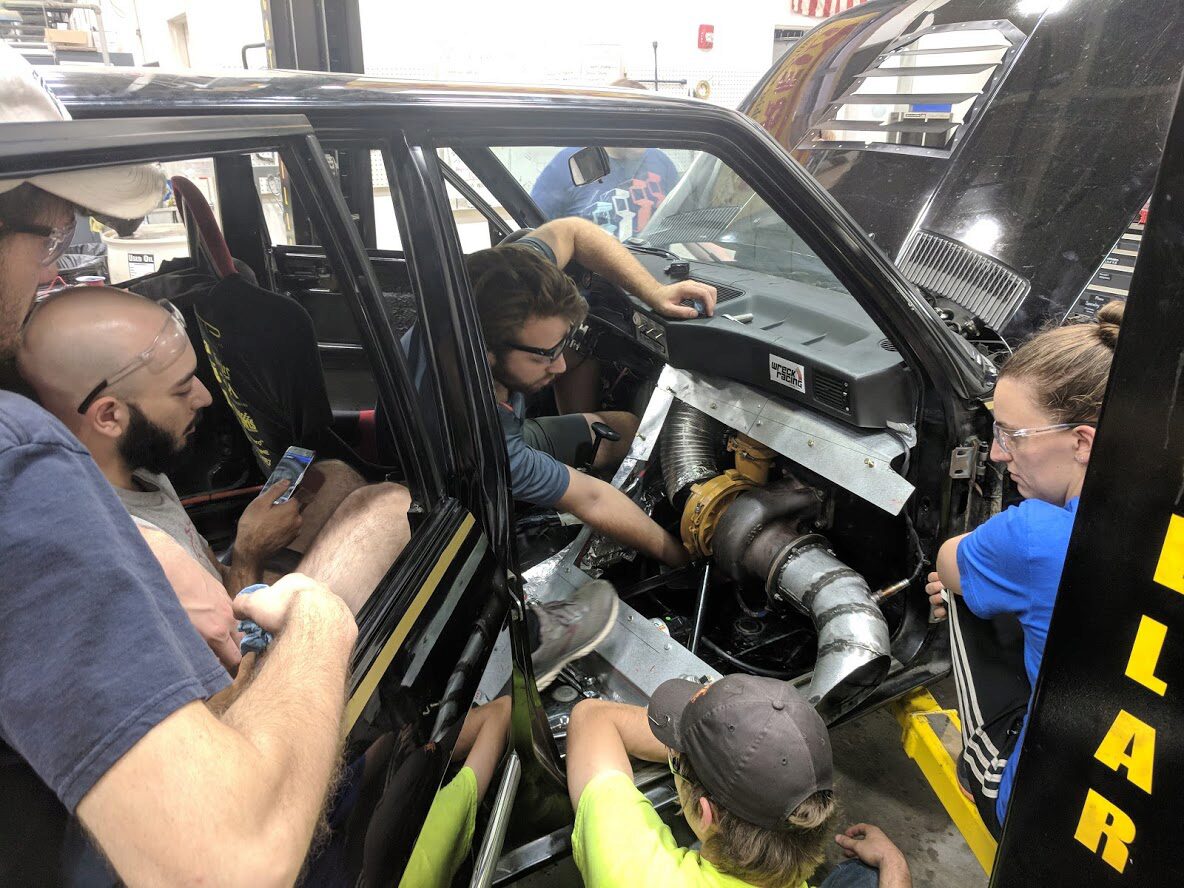 "The Chevy V8's are known for being incredibly stout motors, the Pontiac transmission known for its robustness, the rear axle (a Ford 8.8) is also known for being virtually indestructible, and the 3 series suspension geometry gave us team the steering geometry they were after."
The team members fabricated their own drag-style suspension in the rear, creating what is known as a '3-link with a panhard bar'. They also CNC machined the lower control arm in the front suspension as the original one would be unable to withstand the loads being placed on the car. During its first year in the competition, the 528e took 2nd place overall, winning Best Engineered and Best in Concours, giving Wreck Racing its best ever result for the debut of a car.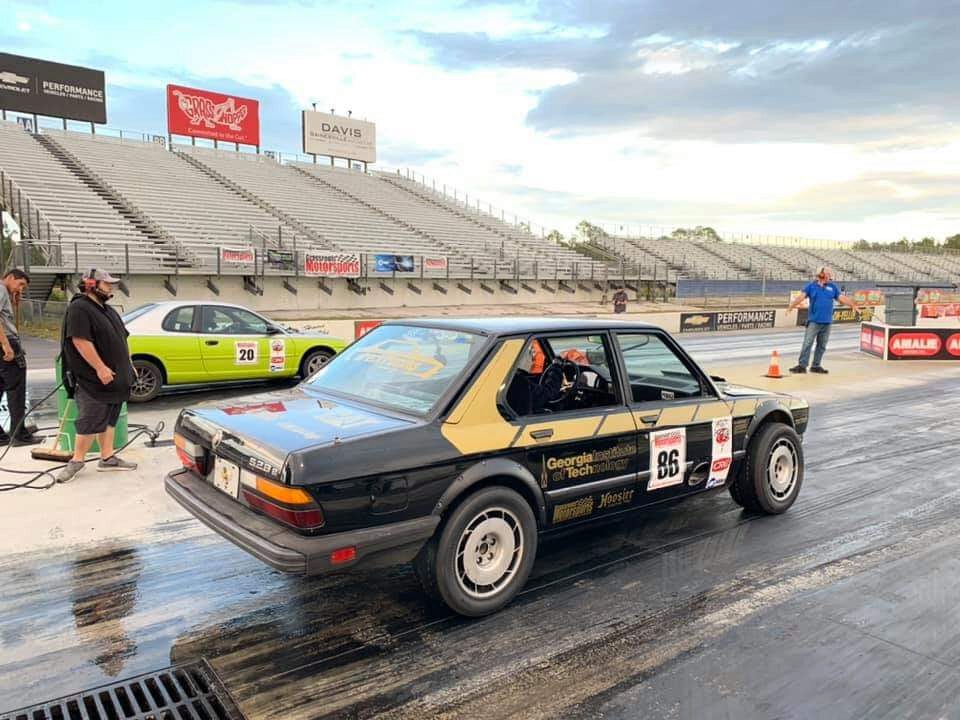 This year the Wreck Racing team spent a good deal of their time turbo charging the car and converting it to run on a biofuel known as E85. E85 is 85% pure ethanol and 15% gasoline. It has a high resistance to knock, introduces a cooling effect when injected into the engine due to the high ethanol content, and has much cleaner emissions than conventional gasoline. However, it also has approximately 30% less energy than gasoline by weight, so a lot more of it was needed. That required the team to alter the car in some interesting ways. They modified the factory fuel injectors, removed the restrictor plates, and increased their flow rate by more than 100%, all for the low price of zero dollars. The turbo charger itself was a gift, taken from 13L Caterpillar diesel generator and donated by a CAT technician who had an extra one laying around.
In the end the '86 BMW came through, earning them third overall and a second straight Best Concours title. Now it's time to tackle a new car and new challenges as Wreck Racing prepares for 2020. New members of all majors and backgrounds are welcome to join, and they may find that the competition teams provide a creative outlet and a place to make new friends.
"Every single person on the team loves what they're doing," said Bekah Travis. "It has really become more than just the technical team that I'm part of to learn about cars. It's a support system and I think that's a very, very valuable and necessary part of being a Georgia Tech student. You need to find that supportive community, and for me it's Wreck Racing."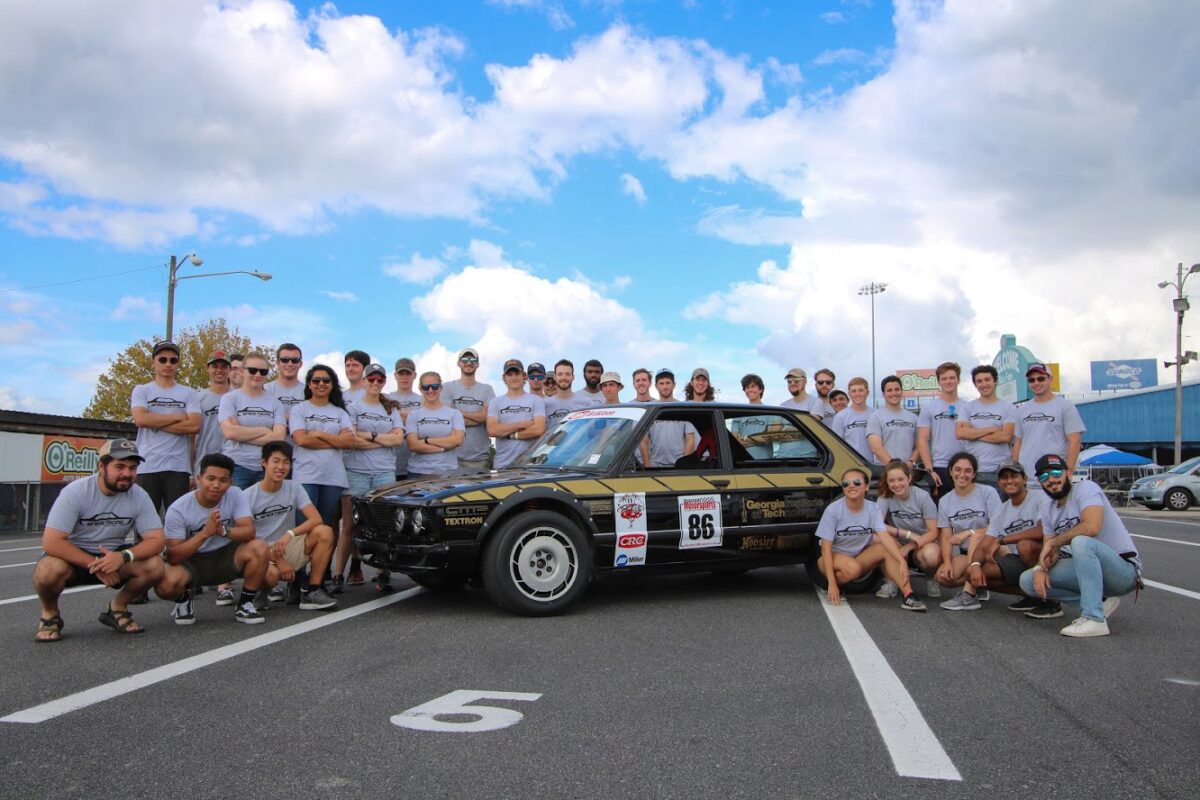 Text by Milad Mozayyani and Ben Wright
Photos by Wreck Racing and Scott Lear/GRM