Seven Woodruff School Students Awarded NSF Graduate Fellowships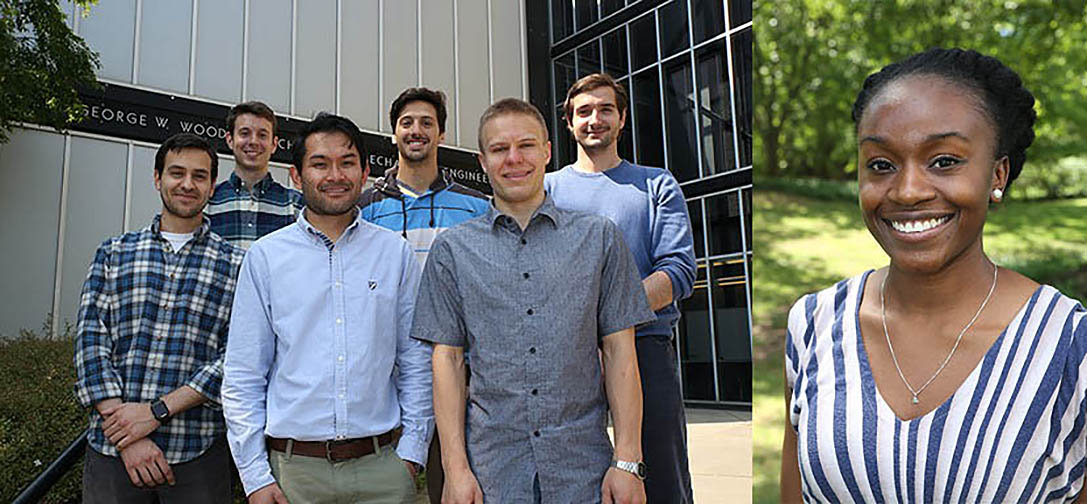 The National Science Foundation (NSF) received close to 17,000 applications for this year's Graduate Research Fellowship. Of the 2,000 reward offers made to outstanding students pursuing research-based master's and doctoral degrees, seven were awarded to Woodruff School graduate researchers.
The Woodruff School is very pleased to present this year's NSF Graduate Research Fellowship recipients and their advisors:
Kenechi Agbim, Mechanical Engineering, Advisor – Sam Graham
Erik Anderson, Mechanical Engineering, Advisor – Bara Cola
Nicholas Bolus, BIOE, GWW Home School student, Advisor – Bob Guldbert
Shekaib Musa, Mechanical Engineering, Advisor – Minami Yoda
Benjamin Musci, Mechanical Engineering, Advisor – Devesh Ranjan
Svetoslav Nikolov, Engineering – Polymer, GWW ME, Advisor – Alexander Alexeev
The National Science Foundation Graduate Research Fellowship Program (GRFP) is the country's oldest fellowship program that directly supports graduate students in various STEM (Science, Technology, Engineering and Mathematics) fields. As the oldest graduate fellowship of its kind, the GRFP has a long history of selecting recipients who achieve high levels of success in their future academic and professional careers. The reputation of the GRFP follows recipients and often helps them become life-long leaders that contribute significantly to both scientific innovation and teaching.
"The Graduate Research Fellowship Program is a vital part of our efforts to foster and promote excellence in U.S. science, technology, engineering and mathematics by recognizing talent broadly from across the nation," said Joan Ferrini-Mundy, NSF assistant director for Education and Human Resources. "These awards are provided to individuals who have demonstrated their potential for significant research achievements, and they are investments that will help propel this country's future innovations and economic growth."
Since 1952, NSF has funded close to 50,000 Graduate Research Fellowships out of more than 500,000 applicants.  Currently, 42 Fellows have gone on to become Nobel laureates, and more than 450 have become members of the National Academy of Sciences.  In addition, the Graduate Research Fellowship Program has a high rate of doctorate degree completion, with more than 70 percent of students completing their doctorates within 11 years.