Liang Receives 2016 Milton C. Shaw Manufacturing Research Medal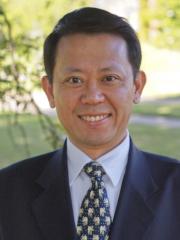 Steven Liang, professor in the Woodruff School of Mechanical Engineering, has been selected to receive the 2016 Milton C. Shaw Manufacturing Research Medal. Liang was recognized for "significant contributions to manufacturing science and technology through studies on physics-based analysis and modeling of machining and grinding processes."
Professor Liang has been a leading scholar long known for his studies on physics-based analysis and modeling of machining and grinding processes. The unique and critical contributions of Liang have been attributed to his persistent pursuit of analytical reasoning and physical understanding of complicated machining processes. Some of Dr. Liang's seminal research has included the analysis of complicated kinematics and dynamics of multiple-flute machining, the modeling of machining fluid effects on process performance and environmental compatibility, the thermal-mechanical prediction of machining residual stress, and the analytical formulation of materials-driven manufacturing.
While many researchers in the field resort primarily to experimental observations, Liang's research paradigms, driven by physical principles and constitutive mechanics, have presented an unusual and yet important pathway to both scientific insights and practical applications. He has maintained an extremely active research program, funded by government agencies, national labs, and various industries, leading to over 400 articles in career publications thus far, and 86 papers and two books in just the last three years alone, with the majority of them indexed by SCI or EI. The involvement of a large number of Liang's academic advisees has also contributed significantly to the scientific human resource development for next generations.
Professor Liang began at Georgia Tech in 1990 as an Assistant Professor. Prior, he was an Assistant Professor at Oklahoma State University and was named to the Bryan Professorship in 2005. He was President of Walsin-Lihwa Corporation, a multinational manufacturing enterprise of USD 6+ billion yearly revenue with 35,000 employees, in 2008-2010.  
Liang hosted NAMRC/SME, MSEC/ASME, and ISFA at Georgia Tech, and served as Chair of ASME Manufacturing Engineering Division and President of North American Manufacturing Research Institution, contributing significantly to the synergy of manufacturing research communities. Dr. Liang has been recognized by the Robert B. Douglas Outstanding Young Manufacturing Engineer Award of the Society of Manufacturing Engineers (SME), the Ralph R. Teetor Educational Award of the Society of Automotive Engineers International, the Blackall Machine Tool and Gage Award of ASME, and the Outstanding Alumni Award of National Cheng-Kung University, and has won best paper awards in several professional conferences. Additionally, Dr. Liang is Fellow of both ASME and SME.
The Milton C. Shaw Manufacturing Research Medal was established in 2009 and recognizes significant foundational contributions to the science and technology of manufacturing processes. The award will be presented at the 2016 ASME Manufacturing Science and Engineering Conference in late June. The award is named after Milton Shaw, a prominent manufacturing researcher and educator, who taught for five decades at MIT, Carnegie Mellon and Arizona State University.