ME Students Selected as ASME Graduate Teaching Fellows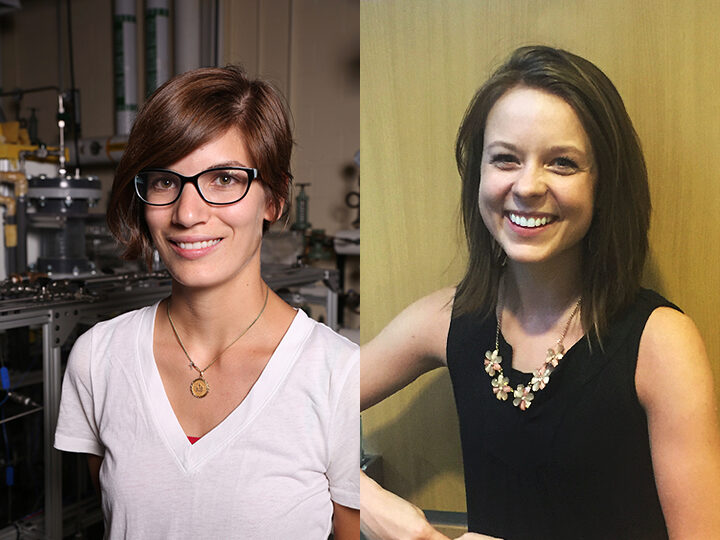 Woodruff School graduate students Allison Mahvi, advised by Dr. Srinivas Garimella, and Megan Tomko, advised by Dr. Julie Linsey, have been selected as American Society of Mechanical Engineers (ASME) Graduate Teaching Fellows for the 2017-2018 academic year.
The ASME Graduate Teaching Fellowship Program is a collaboration between ASME and mechanical engineering departments to encourage outstanding doctoral candidates in mechanical engineering education (and related engineering fields), particularly women and minorities. Awards are made for a maximum of two years and fellows are selected/renewed annually by the ASME Board of Education.
Past Woodruff School Graduate Teaching Fellows include:
1992 - Margueritte Patricia Brackin, Ph.D '97
1994 - Johné M. Parker, Ph.D, '96
1995 - Christopher C. Pascual, Ph.D '99
1996 - Stacey Angela Dixon, Ph.D '00
1998 - Laura Atkinson Schaefer, Ph.D '00
1999 - Stephanie Kladakis, Ph.D '02
2000 - Wayne Johnson, Ph.D '04
2002 - Phillip A. Vogelwede, Ph.D '04
2003 - Susan Stewart, Ph.D '03
2004 - Nathan D. Masters, Ph.D '06
2005 - Anne-Marie Lerner, Ph.D '08
2006 - Joshua Vaughn, Ph.D '08
2011 - Ashley Bernal, Ph.D '11
2012 - Brian Fronk, Ph.D '14
2013 - Thomas Stone, Ph.D '12
ASME is a not-for-profit membership organization that enables collaboration, knowledge sharing, career enrichment, and skills development across all engineering disciplines, toward a goal of helping the global engineering community develop solutions to benefit lives and livelihoods.