Emerging Leaders Lecture Series Announced
The Woodruff School is excited to announce the inaugural Emerging Leaders Lecture Series. This lecture series will bring talented underrepresented minority senior Ph.D. students, postdocs, recent graduates, and early career professionals that are interested in pursuing academic careers to our campus to showcase their research and engage with our faculty, students, and staff. 
"The Emerging Leaders Lecture Series is an outstanding opportunity for us to bring some of the brightest young minds in their fields to our campus to explore the opportunities Georgia Tech has to offer while also serving as inspiration for our current students," said Samuel Graham Jr., Eugene C. Gwaltney, Jr. Chair. "As these emerging leaders finish their degree programs, postdocs and early career endeavors, we want the Woodruff School to be at the top of the list of places they would consider launching their professional careers."

Spring 2020 Emerging Leaders Lectures
 
Symone Alexander
Wednesday, February 12th, 11 am, MRDC 4211
Postdoc in Chemical and Biological Engineering at Georgia Institute of Technology

Raspberry Simpson
Thursday, March 12th, MRDC 4211
Ph.D. Candidate in Nuclear Engineering at Massachusetts Institute of Technology and Visiting Scholar at Lawrence Livermore National Laboratory

Kantwon Rodgers
Wednesday, April 8th, 11 am, MRDC 4211
Ph.D. Student in Human Computer Interaction & Learning Sciences and Technology at Georgia Institute of Technology

More information on the first speaker in the series is below. Details for the remaining speakers will be psoted in the near future.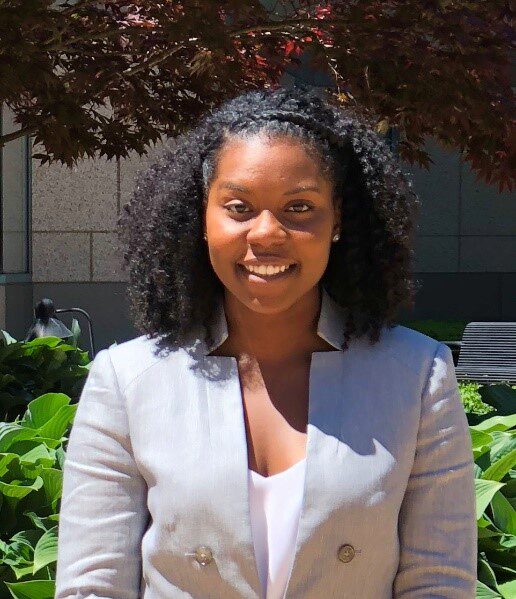 Symone Alexander
Postdoc in Chemical and Biological Engineering at Georgia Institute of Technology

Title: "Living systems as design guides for tunable response and ultrafast motion"
Abstract:
From nanoscale to macroscale architectures, structured polymeric materials connect disciplines of physics, biology, and engineering and serve as a foundation for understanding the complex interactions leading to motion. As an NSF graduate research fellow, Dr. Alexander utilized transport phenomena in pinecones as bio-inspiration to design stimuli-responsive composites. Pinecones change shape in response to hydration using a bilayer structure composed of active and passive layers. To mimic this behavior, molecular gels are used to reinforce the passive layer and increase hydrophobicity, while electrospun nanofibers are used to increase swelling in the active layer and decrease the layer modulus. Additionally, switching from randomly oriented to aligned electrospun nanofibers enabled control over curvature, shape, and response rate. The two fiber networks were embedded in a single elastomer, forming a durable, seamless interface. With this body of work, fundamental design concepts in nature were used to expand the application of molecular gels in polymer composites, while introducing facile strategies to achieve tunable, hygromorphic actuator platforms.
As an Eckert Postdoctoral Research Fellow, Dr. Alexander is investigating a tiny arachnid native to the Peruvian Amazon Rainforest known as the "Slingshot Spider." This spider employs a conical 3-D web to achieve accelerations exceeding 1300 m/s2 without sustaining physiological harm. In this research, Dr. Alexander is investigating how slingshot spiders achieve ultrafast motion using polymeric materials, fundamental physics concepts, and engineering design, while sharing insight about the utility of this extraordinary prey capture strategy.
Biography:
Dr. Symone Alexander is an Eckert Postdoctoral Research Fellow at Georgia Institute of Technology in the Department of Chemical and Biomolecular Engineering. She is currently leading investigations on extreme organismic biophysics with a focus on ultra-fast motion in nature in Prof. Saad Bhamla's research group. She earned her Ph.D. in Macromolecular Science and Engineering as an NSF Graduate Research Fellow at Case Western Reserve University, advised by Prof. LaShanda Korley. During her graduate career, she led research on the influence of high molecular weight polymers on self-assembling small molecules and how those networks can be utilized to generate responsive polymer composites. She obtained a B.S. in Chemical Engineering from Howard University in 2013, where she investigated DNA-polymer assemblies utilizing Atomic Force Microscopy under the advisement of Dr. Preethi Chandran and Dr. Joseph Cannon. Dr. Alexander recently served as the elected chair of the 2019 Polymers Gordon Research Seminar (GRS) and actively participates in science communication through her role as a social media contributor for the Biophysics Journal. She is a recipient of numerous awards and honors, including numerous fellowships, selection as a 2020 Emerging Leader by Georgia Tech Dept. of Mechanical Engineering, selection as a 2019 American Chemical Society Future Faculty Scholar (ACS PMSE), and being selected as a 2018 Rising Star in Chemical Engineering by the Massachusetts Institute of Technology (MIT).